What you can expect when coming to Dulan
WaGaLiGong is more than just a restaurant, bar, surf shop or water sports center in Dulan; it's a place where those passionate about travel, music, art and film, surfing, or the ocean meet.
Surf, SUP & windsurf guides and board rentals, SUP tours, good food and refreshing ice-cold draught beer , and helpful staff await.
Enjoy an early morning surf or surf lesson followed by a full English breakfast and hot coffee in WaGaLiGong's cozy restaurant. Take a nap or read a book up on the shaded rooftop while the Pacific Ocean shimmers to the east and Dulan Mt. looms to the west. After lunch either hike the Dulan Mountain trail or rent a scooter and go exploring. As dusk approaches and the sun sets behind the mountains and head back for the late surf or SUP session. Then its time to enjoy an ice-cold beer at the bar before enjoying a delicious pizza or burger. After dinner join in with the late night crew who debate anything from politics to the next day's surf/wind conditions and then either poker with some of the locals or a sports game on our big screen. If it's a Saturday night wander out for some live music at one of Dulan's live music venues.
There's something for everyone at WaGaLiGong in Dulan - the heart of Taitung..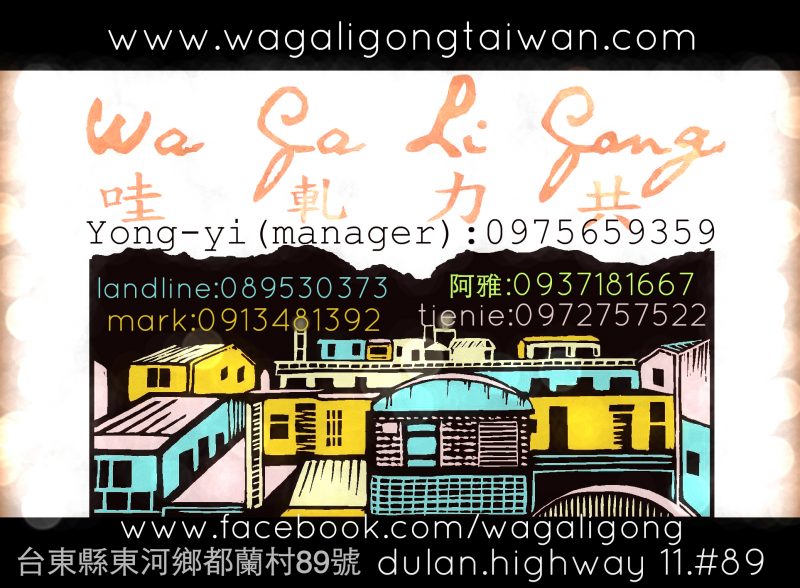 Want to get a feel for us and our local village?
WaGaLiGong loves to make documentary films about our environment. Check out our film below which won second place at the 2014 Austronesian International Arts Festival. Archipelago: Track Four, which documents a few days in the life of local artist Siki Sufin, was mostly shot during the one month residency period for the Austronesian International Arts Festival. I tried my best to show, within a limited time, the relationship between 'earth' (or island - Siki in this case), water, the rivers and ocean), wood (the livelihood) and song (communication and legacy), and how these elements bind Siki to his culture and village.
Getting here
Wagaligong (哇軋力共), sits conveniently in the heart of Dulan, diagonally across the road from the Dulan Sugar Factory. Arriving from the south: pass the Sugar Factory (on the left) and we're 30meters to the north on the right hand side. Arriving from the north: pass the 7/11(on the right) and we're on the left side, half way between the 7/11 and the Sugar Factory. From Taitung Airport/Railway Station: Upon exiting either the airport or station you have several options: Bus: catch either of these buses: 8101, 8102, 8103, 8109, 8119, 8120 or the Taiwan Tour Bus (East Coast Line) to Dulan and get off at Dulan Stop 1. You are literally on our doorstep. We're number 89. Wagaligong offers a pick up/drop off service, with rates as follows: NT$500 to/from Fugang Ferry Port, NT$600 to/from Taitung Railway Station, and NT$700 to/from Taitung Airport. Taxi: ask the driver to take you to Dulan, number 89. Day rates are about NT$600~700, night rates NT$700~800. Rent a scooter from outside the station. Make sure you have your international driving license. Follow the highway 11 north for 20 minutes till you get to Dulan. We're on the right hand side, number 89. Rates: NT$400/day. If driving from the north, for example from Taoyuen Airport, Taipei, Yilan, etc, just follow the Highway 11 south, past Hualien, and Donghe. From Donghe we're only 20 minutes away. On entering Dulan pass the 7/11 and we're on the left hand side, number 89.
Happy Customers
What people thought about WaGaLiGong
Great place to relax and talk to so many nice people.
Ching Yu Hsu
Loved the place! And Mark gave a super surf lesson to my kids, they are asking for more now… Pizza was delicious as well.
Kati Mustonen
Wagaligong was my second home for 3 months. I loved it, and it was hard to leave. I was treated like a part of the family and will never forget my time there. thanks for the good times.
-a travelling chef-
Antoine Lee Lançon